"Educating yourself about mental health is an important part of taking care of yourself, being supportive of others, and creating positive change in the community," said Alexa James, CEO of NAMI Chicago, which is part of the nation's largest grassroots mental health organization. "We all understand that mental health is a component to us daily."
For the last year, NAMI Chicago has provided expertise and input to the ADA on wellness programming and ways to support members and staff alike during an especially challenging time. To build on this relationship, the ADA has entered into a formal agreement with NAMI Chicago to develop a series of mental wellness tools and resources that can be used easily and effectively in the dental practice setting.
This relationship is in addition to a new collaboration with Hope for the Day, announced in April. These resources will be provided in part through a grant to the ADA from Crest + Oral-B, the goal of which is help new dentists and their teams recover from the impacts of the pandemic.
Among the first offerings from NAMI Chicago is their "
The Ultimate Workplace Mental Health Toolkit
," created in partnership with Launchways, which provides information on key concepts, guidance on an overall approach to workplace mental health, and a toolkit with quizzes and surveys that can help start the conversation around mental health.
In November 2020, Ms. James joined Dr. Betsy Shapiro of the ADA for an episode of the Beyond the Mouth podcast. She spoke on the topic of "Changing the Conversation Around Mental Health and Wellness at Work." The
recording remains available on the ADA's website
. She provided background about NAMI Chicago's mission and approach to supporting mental wellness and offered some specific ideas for dentists to incorporate in their practices to support mental health in the workplace.
Started by a small group of families gathered around a kitchen table in 1979, the National Alliance on Mental Illness (NAMI) is now the nation's largest grassroots mental health organization dedicated to building better lives for the millions of Americans affected by mental illness. NAMI Chicago is one of 650 state organizations and NAMI Affiliates across the country.
"Our hope is to connect people to care with the least amount of trauma. The mental health system is super complicated… A lot of our work is to advocate for a more equitable system that has more access and less expense, but also to make sure people feel safe and comfortable seeking services," said Ms. James. She shared that conversations on mental health during COVID-19 have decreased some of the stigma, but that there is still work to do to change perceptions and attitudes around seeking care.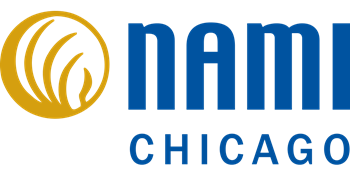 In August 2020, the ADA Health Policy Institute conducted a survey on the impact of COVID-19 on dentists under the age of 35. Responses showed that 87% reported experiencing anxiety, 76% reported financial problems and 55% reported experiencing depression. Yet responses to the same survey showed 55% were not familiar with mental health and other supportive services in their health insurance plans, and over 30% were not comfortable seeking out mental health services for themselves or team members. The ADA is seeking to
raise awareness
and increase access to wellness programs, including mental wellbeing, with NAMI Chicago and Hope for the Day. In addition, dentist are invited to share how the past year of the pandemic has affected their physical and mental health by taking the
2021 Dentist Health and Well-Being Survey,
conducted by the ADA Council on Dental Practice. The survey should take about 10 minutes to complete, and the deadline to respond is mid-May.
James Lee, D.M.D., a member of the New Dentist Committee, shared on
Instagram
his appreciation for these new tools and programs.
"I am so proud that our profession continues to proactively build a culture of safety and a culture of wellness…I encourage you to dig deeper into these issues and join the conversation," Dr. Lee said.
NAMI Chicago's tagline reads: "We have the courage to believe that healing is possible." NAMI Chicago states that their approach to mental health "is centered around what it means for all people to be well and maintain their wellness every day" and that they do this through healing, advocacy, expertise and community. They further state that this approach is "guided by the experiences of those living with mental health conditions and rooted in equity."
During the podcast, Ms. James offered some tips for dentists to create wellness, confirming that wellness must first start within, to then offer support to others.
"Figure out who to lean on so you can encourage your teams and be honest when you're feeling low, tell them how you feel, normalize that conversation in your community," she said, adding that team members can also support one another. She suggested that a dental team's morning huddle is one way to check in on each other.
In addition to the toolkit, NAMI Chicago will also develop curricula and deliver training on mental health awareness, self-care, workplace wellness and inspirational leadership including ways to identify signs of burnout and create a positive work environment. All of the resources will include promotion of their free Helpline which is available 7 days a week to offer a listening ear and connection to resources in Chicago and beyond – available at 1-833-626-4244. Additionally, social media content and reproducible posters will be provided for dentists to use and share.
Keep an eye out for additional details as materials are launched over the next several months. In the meantime, there are a number of wellness resources available on the
ADA's website
and
NAMI Chicago's website
.