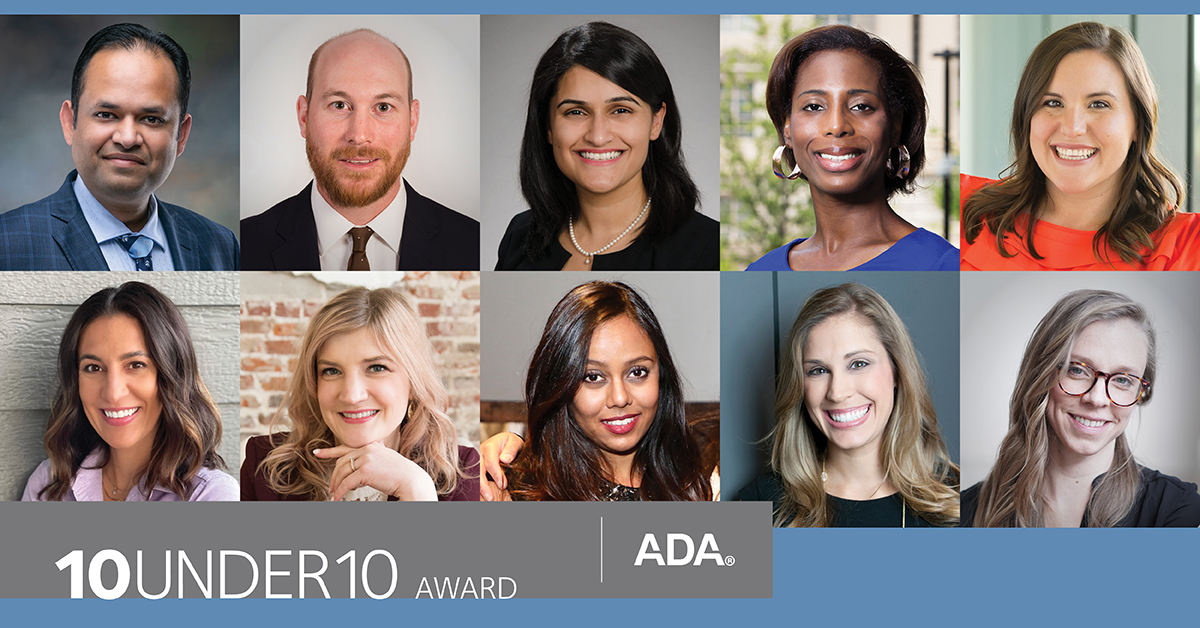 The American Dental Association is seeking nominations through Dec. 31 to recognize 10 new dentists who are demonstrating excellence in their work and inspiring others.
Winners of the annual
ADA 10 Under 10 Awards
will receive a $1,000 cash prize and be recognized at SmileCon and in various ADA publications and channels, including the ADA News and the New Dentist News. The ADA New Dentist Committee will choose and announce the winners in spring of 2022.
Last year, the ADA New Dentist Committee received more than 100 submitted nominations recognizing new dentists for a wide range of accomplishments, including for their leadership with the Indian Health Service's Native American Health Center in San Francisco, efforts to raise over $10,000 for the Alzheimer's Association, and work at the Centers for Disease Control and Prevention.
Nominations are sought of new dentists who are making a difference in:
• Science/research/education: A dentist who has made substantial contributions to advancing clinical topics by leading, organizing or participating in clinical research or scientifically focused efforts or who significantly impacts students through education and mentorship.
• Practice excellence: A dentist who doesn't settle for the status quo and has implemented an innovative or more effective way to improve patients' experience, market or grow their practice or manage their dental team. Their practice methods serve as an inspiration to other dentists.
• Philanthropy: A dentist who has made a difference in the lives of others (in dentistry or otherwise), either by volunteering, leading a philanthropic effort or using their skills to help those in need.
• Leadership: A dentist who serves in leadership, either within or outside dentistry, and has used that position to improve a dental association, another organization or their community at large.
• Advocacy: A dentist who takes a leadership role in advocacy initiatives or legislative activity on behalf of dentists and oral health initiatives.
Nominees have to be active ADA members who graduated from a Commission on Dental Accreditation-accredited dental school between the years 2012 and 2021. Self-nominations are not permitted.
For more information or to nominate a new dentist, visit
ADA.org/10under10
.