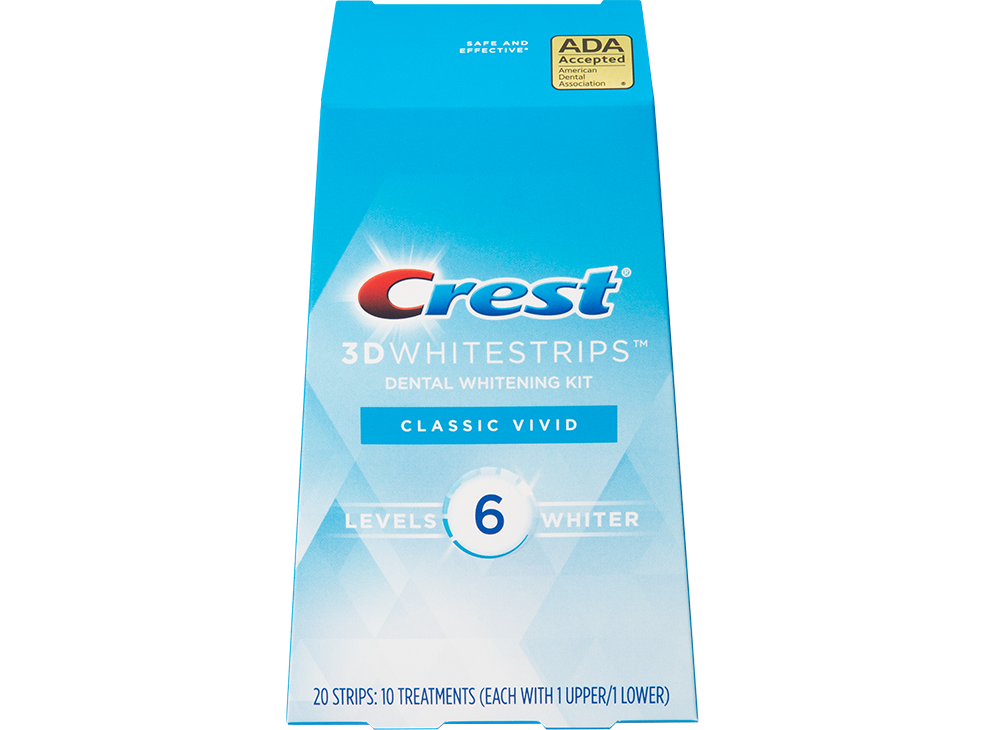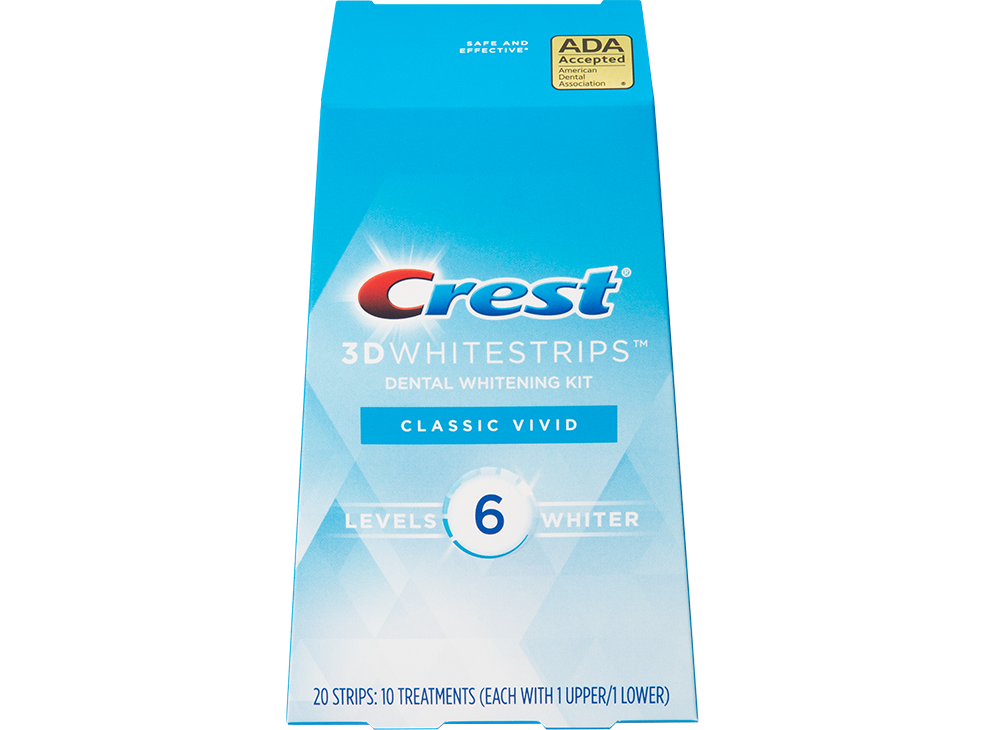 Crest 3D Whitestrips
Seal Statement
The ADA Council on Scientific Affairs Acceptance of Crest 3D Whitestrips is based on its finding that the product is safe and has shown efficacy in whitening natural teeth when used according to the manufacturer's instructions.
Features:
Use once a day for for 30 minutes
Removes 10 years of set in stains from coffee, wine and smoking with a comfortable, no-slip whitening experience
Store in a cool place. Best if used by the date noted on package.
Directions:
Peel whitestrips from backing liner
Slowly stretch strip to cover the number of teeth you intend to whiten
Using a mirror, apply gel side of strip to front of teeth
Align straight edge of strip with gumline. Fold over teeth and press to secure
Pull from back of teeth first to ease removal
Caution: Keep out of reach of children.  Not intended for use in children under the age of 12.  Do not swallow plastic strip. Crest 3D White Whitestrips is not a substitute for regular dental care.  Visit your dentist regularly.  Avoid contact of gel with eyes, cloth, leather, or fabric.  Gel that comes into contact with the skin can cause temporary skin irritation and/or whitening. Tooth sensitivity & gum discomfort: With all whitening products you may experience tooth sensitivity and/or gum discomfort. With products that provide a high level of whitening such as Crest 3D Glamorous White Whitestrips, there is a greater chance that you may experience tooth sensitivity and/or gum discomfort.  These effects are generally mild. These effects are temporary and not harmful. If you are in need of dental work, have dental work, or have staining from medication, ask your dentist if whitening is appropriate.  Crest 3D White Whitestrips are designed to hold well to teeth.  Do not use on loose teeth, restorations or braces.  Crest 3D White Whitestrips will only whiten natural teeth. The strips will not whiten caps, crowns, veneers, fillings or dentures.
Additional information about the product, including whether coupons or promotions are available, is available on the company's web site.
Procter & Gamble Co.
Mason Business Center
8700 Mason-Montgomery Rd. Box 1557
Mason OH 45040-9462
Ph: 513.983.1100
Ph: 800.645.4337
https://us.pg.com/