S1 E3: Joining organized dentistry
At SmileCon 2022, a recent dental school grad shares her reasons for getting involved.
You can also listen on the ADA Member App and enjoy exclusive bonus content.
Episode notes
Finding a professional home in organized dentistry
At ADA's SmileCon 2022, hosted in Houston, attendees enjoyed a new feature – the ADA podcast stage. Dentists gathered for a live recording of Dental Sound Bites with host Dr. ArNelle Wright interviewing Dr. Joy Nisnisan in front of an audience while co-host Dr. MJ Hanlon joined the conversation remotely. The topic of the episode was organized dentistry from the perspective of Nisnisan, a 2022 graduate of the UTHealth Houston School of Dentistry, who was also an active member of the American Student Dental Association.
As Dr. Nisnisan shares: "The ADA is here for you if you need to talk, if you need resources and more. First and foremost, it's the place dentists call home. It's the people that fight for us when we're not aware of it, while we're in practice, while we're on vacation. ADA is family."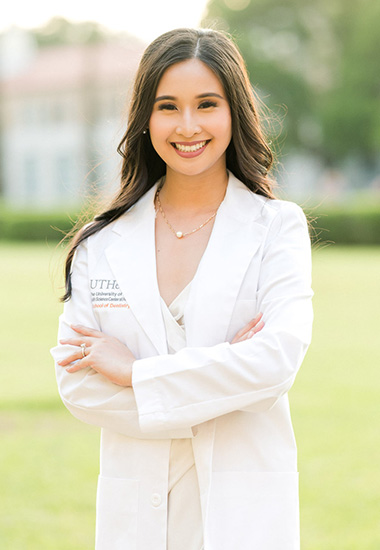 Dr. Nisnisan
Show notes
Dr. Nisnisan shares her path into the profession and the positive role organized dentistry played in her decision to become a dentist and continues to play now that she is in practice.
SmileCon being hosted in Houston this year was particularly special to Dr. Nisnisan, who grew up in the city and was embraced by the local dental society when she first became interested in the profession.
Nisnisan is a first-generation Filipino-American and grew up with parents who worked in health care. Her father is an internist and her mother a nurse. She became involved in organized dentistry as a pre-dental student to make connections in the field and met many welcoming dentists through the Greater Houston Dental Society.
She became active in the American Student Dental Association (ASDA), where she learned about the House of Delegates and the power dentists have to determine how they practice. She was also vice president of ASDA during her fourth year of dental school.
"Organized dentistry has done so much for me and it's taught me the importance of dentistry as a profession, not a trade. And the expectations that you have as a future dental professional to provide for your patients and the public at large," she says.
Shortly after the COVID-19 pandemic took hold in March 2020, Dr. Nisnisan saw firsthand the power of organized dentistry when dentists across the state advocated for the profession with the governor of Texas. As a result, dentists were able to get back to work months before other health care workers who were initially deemed "non-essential."
Dr. Nisnisan is now involved with the New Dentists Committee at the ADA and encourages her fellow new graduates to get involved too.
She says the resources and access to experienced dentists who listen to her concerns is valuable and she now has a network of connections that feel like family.
She says organized dentistry has "really helped me realize that as a dentist, I have my duty to my patients, but I have a duty to the profession as well."
Propel your success with ADA membership. From the support of a community ready to help you thrive and a team of advocates working to advance legislation that matters to you and your patients, to exclusive member tools, it's a great time to be an ADA member.
Resources
Transcript
Wright [00:00:00] Alright, Houston, we've got a podcast. Hi, everybody. I am Dr. Wright. And joining me remotely to host this show is Dr. MJ Hanlon. How are you today, Dr. Hanlon?
Hanlon [00:00:14] I am awesome, Dr. Wright. This is one of the coolest things I have ever done with you there and me here, and we just get to do this together. It's just awesome.
Wright [00:00:25] Yes, it really, really is. This is Dental Sound Bites, which is an ADA podcast where dentists address solutions to challenges in both life and work.
Announcer [00:00:38] From the American Dental Association, this is Dental Sound Bites. Created for dentists by dentists. Ready? Let's dive right into real talk on dentistry's daily wins and sticky situations.
Wright [00:00:53] So, today, we are recording in front of a live audience here at SmileCon. So when you look around and you feel this energy, you guys can see what brought us all here today. Organized dentistry, right? So, I think it's really, really important for us to talk about why it matters to us and how all dentists can help shape the future of our profession. We have a special guest today on the episode in this amazing event for dentistry and joining us here on this SmileCon podcast stage, our special guest is our ASDA the 2021-2022 Vice President and as the consultant member of the ADA's New Dentist Committee, Dr. Joy Nisnisan, so welcome to Sound Bites, Dr. Joy.
Nisnisan [00:01:36] Thank you so much, Dr. ArNelle. It's such an honor to be here today. I would have never dreamed I'd be here at SmileCon in Houston at a podcast. So this is such a wonderful opportunity for me.
Hanlon [00:01:47] So, tell us a little bit about Houston. How has it been, Dr. Joy?
Nisnisan [00:01:50] Houston's been great. I've lived here for the past 20 years. I was born in New Jersey. So I tell people, I'm Jersey born, Texas bred. I've lived here for 20 years and it's hot, but it's really fun. Good food, so diverse, so much to learn from. And I love my local dental society and the dentists in Texas, they've been so kind to me, so welcoming. And it's a big part of why I'm here today.
Hanlon [00:02:11] That's awesome.
Wright [00:02:12] Dr. Joy, can you tell us a little bit about yourself and your career journey?
Nisnisan [00:02:16] Absolutely. So, a little bit about myself. I'm a second generation Filipino-American. I come from a big family of four children, three out of four. I'm the first one born here in the States. I have a health care background. My father is an internist. My mother is a nurse. So, I grew up in the medical field. I thought I wanted to be a physician my whole life, graduated high school, went to college here at the University of Houston, worked for my dad as a medical assistant, and I wanted to be a surgeon. And he said, "Oh, that sounds great. You're just going to be in school for another 20 years." and I was like, "Wait a minute. Work life balance is huge for me." And I said, "You know what? Let me give dentistry a chance." I shadowed a dentist, and after that day of shadowing, I put all my eggs in one basket and dentistry. And here I am.
Announcer [00:03:00] Announcing the new... wait ... this calls for a drum roll…[drum roll sound effect]. Perfect. Announcing the newly reimagined ADA member app. Designed for dentists by dentists. It puts ADA membership in the palm of your hands with features like a personalized news feed, member chat groups, personal document storage, even episode exclusives from Dental Sound Bites. The new ADA podcast. Tap into all the possibilities by searching for a ADA member app in your App Store.
Hanlon [00:03:38] Dr. Joy, you have a unique perspective in your journey so far. You're so young. So, tell us a little bit about why you got involved in organized dentistry.
Nisnisan [00:03:47] I got involved in organized dentistry because I didn't have any dental connections when I was interested in becoming a dentist. And so my first exposure to dentistry was the Greater Houston Dental Society, and I kind of jumped all in. I didn't know anyone. I introduced myself. I went to a local meeting and I said, "Hey, I'm a pre-dental student now, I'd love to get involved." And they said, "You know, why don't you go to the Star of the South dental meeting." Which is a huge dental meeting here in Houston we host every year. This year we've combined it with SmileCon, which is awesome. And I worked there for five years learning about research, the table clinics, networking with dentists. And eventually I found a dentist that I could volunteer for and that turned into an opportunity to assist. She taught me how to assist in her practice. I got into dental school a little bit after that. So, organized dentistry has done so much for me and it's taught me the importance of dentistry as a profession, not a trade. And the expectations that you have as a future dental professional to provide for your patients and the public at large.
Wright [00:04:49] Oh, that's beautiful.
Hanlon [00:04:51] I really want to know what your experience was like to be a student and work in ASDA.
Nisnisan [00:04:55] To be a dental student, and work at ASDA, you're wearing many hats. Dental school is a very stressful time, and ASDA was a great way for me to kind of separate that space of dental school and to still be in dentistry, but be aware of all the issues that you're facing as a future professional. Be aware of everything that's going on in the House of Delegates. Dentistry is so special because as a profession we have such a huge say in how we practice. Not a lot of healthcare professionals have that power. And so being a dental student, being involved, was it a lot? Absolutely. Were there sleepless nights and running from the airport to clinic and pre clinic and jumping into seeing patients 100%? But that experience really prepared me for what it would be like as a dental professional.
Hanlon [00:05:45] Did you find that becoming involved in organized dentistry helped you find a role in dentistry like your first job?
Nisnisan [00:05:51] I think it did. I did network very well with DSO companies, and I made connections with certain private practice owners. Even after graduation, I took about two months to really hone in on what I wanted to be as a practitioner, where I wanted to be, where do I want to be in five years, what I want to be in ten years and what would be best for me right now. So, I made so many connections through organized dentistry and all the trips. I'm now connected to the New Dentists Committee at the ADA, and it really feels like this big family of people I can talk to about anything. I was telling them last week about some of my episodes on practicing by myself for the first time, and it's so relieving to hear that, "Oh, you know, we've all been through that. It's okay." And you know, you have this network of people that are around you that you can access at any time. And when you graduate dental school, you tend to feel isolated, right? We had this big family of 108 students. We were all so supportive of each other. We were like we were there when to pick up each other when we fell. And so now it's like now you're on your own. Everyone's moved away. Who do I have in my corner? And I have a new dentist committee. I have ASDA. I have all these dentists here who are excited to support me. So, I made really good connections here that did help me find my current job and friends and family that I can rely on to talk to.
Hanlon [00:07:07] Yeah. Excellent.
Wright [00:07:07] Organized industry. What can it do at the state, the local and the national level for dentists, in your opinion?
Nisnisan [00:07:15] Organized dentistry is it's like this whole other side of the profession, right? We have our clinical side and then we have organized dentistry that's fighting for us when we're sleeping, when we're in dental school. I think on the state level it gives people the opportunity to have a more home-like feel into what organized dentistry is getting involved, especially as a new dentist, like getting involved in local society, finding where you fit, what you like to do. At the national level it's just it's so, it's so, different. The management style is different, the expectations are different. But it's so exciting to get there because you're learning so much more about what the ADA does for dentistry in terms of how they're fighting back insurance, in terms of how we're fighting to make sure fluoridation is accessible for people, how are making sure that things are beneficial for our patients. So, I really think that every component is so important in how we make sure people are involved and the local level is where it starts. And then you come to find like, "Wow, I really care about this issue in practice. I see it happen every day" and if you want to do something about it, the ADA is there for you to share your voice and to take action. So, I think where there's a disconnect sometimes is like people are mad about what's going on, but they don't say anything, they don't do anything. They just kind of live with it day to day. But that's what the ADA is here for, you know, and so making sure, like, we're getting people on the local level to understand what we do and hopefully getting them involved on a national level is so paramount because there's so many things the ADA does for us and for dentistry.
Wright [00:08:53] Yeah. And would you call those benefits of organized dentistry?
Nisnisan [00:08:57] A hundred, 100 percent. There are tangible and intangible benefits. Right? The tangible benefits are what the policy is the ADA fights for and how that directly affects you in practice. One particularly that happened during COVID, we had so many Texas dentists speaking with the governor on opening up Texas dental practices again, and that got us back to work in just a couple of months after the pandemic hit. And that's powerful. There are so many other health care professionals that had to stop working. But the reason why dentistry was back to work is because of organized dentistry and the connections we shared. That is powerful. Right. And then you have the benefits of networking, you have the benefits of friendship, and you have the benefits of people who understand exactly what you're going through, even if they're not from the same state or city.
Hanlon [00:09:44] You teed that up for me so well, Dr. Joy, because one of the things that I wanted to share with the audience was that I was past president of Massachusetts. And one of the bills that we have on the Hill right now legislatively is the medical loss ratio bill. And the ADA got behind us 100% of the way. And we have almost 50 states that are actively working towards helping us pass that bill. People don't understand that even though you may not be involved, all of those things are being done for us behind the scenes and we benefit from it as dentists.
Nisnisan [00:10:18] Absolutely.
Wright [00:10:19] So what kind of positive impacts or personal a-ha moments has it brought you? Being a member of organized dentistry?
Nisnisan [00:10:27] My first a-ha moment had to be in the boardroom of the Greater Houston Dental Society. I was part of the Legislative Action Committee and the Dental Health Committee that revolved around volunteerism and giving back. I was sitting there and they were talking about at the time the legislative agenda and how it would affect dentists in Texas, and how, if it wasn't passed, it would have had a negative effect. And dentists were planning volunteer events, willing to stop their practices for a day and use all their materials to provide such a service. And it's like dentists are a jack of all trades type of profession. And they're there's so much leadership, there's so much growth, and I'm so big on leadership. And I wanted to become someone who could create more leaders. And dentistry gives you that opportunity through whatever you're interested in, whether that's community service, whether that's legislative, whether that's wellness, whether that's mental health. You can do so much through dentistry. And I was like, "Wow, I think this is the profession for me." So, just just seeing people in action and actually helping other people and seeing that I'm a busy person, but I'm, I make time to give back to my profession because a lot of them were telling me, "I'm going to be retired in five years, but you're going to be taking over. And I want the profession to be as great to you, as it was to me." And it's like, wow, this there are people that care about me that don't even know me, but because I'm a dental student, they're out here saying, you know, it's our job to leave the profession better for you than it was for us. And that's why we're here. And and there's this ownership of how we treat each other professionally and and how we manage things. And it's just such a nice profession and organization to be part of it. It's unlike anything else.
Hanlon [00:12:14] So, do you find that many of the students that you went to school with are involved in organized dentistry?
Nisnisan [00:12:20] Surprisingly, I feel that a lot of my classmates are more interested in getting involved now that they're outside of school. Now that they're in practice, a lot of people are messaging me and saying, "Joy, how do I get involved? Who do I talk to?" I'm noticing something while I'm practicing, and I'm just I just have a lot of questions about it. I feel alone. I feel isolated. I feel like no one else relates to what I'm going through. And I'm like, we have such a wonderful network of dentists here in Houston, in Texas, in the ADA, that would be more than happy to help you with what you're going through. And so my angle at it right now is, you know, I'm trying to let them know you have a dental family that has your back and you just have to reach out and talk to someone. So in dental school, you're stressed out, you don't want to think about anything else. And then now that you're in practice, you feel alone and you need support. And I feel like the ADA is a support new dentists need. Just preaching that and telling people about that is going to be really instrumental in getting new dentists to join the ADA.
Hanlon [00:13:21] So what do you think some of the challenges are that the ADA is facing right now?
Nisnisan [00:13:26] We need more dentists, like inviting new dentists to meetings, giving it that human component and saying, "hey, like, how long have you been out? Like, you know, there's this really good meeting here at the society or here at the ADA. I think you you'd really benefit from coming to it." And just just simply saying that to new dentist is is so impactful because a lot of us just were too scared to ask.
Hanlon [00:13:48] Yeah. You know, it's not uncommon, Dr. Joy, very often, if you just felt welcome, you'd come to more meetings. We as mentors, we just have to remember that we have to be more welcoming.
Wright [00:14:00] Absolutely. Listen. And it sounds like that personal touch point is a recurring theme that we hear oftentimes in our meetings, just like extending your hand, I think at one of our past in NDC meetings that the phrase was coined instead of like being at the table, it's like pulling up a chair. So, it's kind of like allowing someone to like have a seat by you. Like you can sit with me. Not that. "Hey, no new friends. You don't need to sit with me." Like we have to just kind of bring the newer generation alongside. I mean, I'm still within that 1 to 10 year time frame, so I'm still an early career dentist, but I am five years out. And MJ, you mentioned that five year mark. There's just something that changes after that. Yeah, so that five year mark, it's a really key point throughout our journey. So, that personal touch point is something that I think we all could benefit from. So, tell me about attending national events. How do you think that attending these national events have helped you find your role within organized dentistry?
Nisnisan [00:14:59] Attending national events as a dental student really exposed me to the ASDA House of Delegates. Yeah. And the ADA House of Delegates. And they both run a little bit differently. And that's important because if you want something done in the house, there's, there's different channels it has to go through. Yeah, yeah, there's protocols. And another one of my a-ha moments, coming back to another question, was walking into the ASDA House of Delegates as a dental student. And I walked in and there were, you know, the separation of the delegates in the front. There were the guest chairs, there was the stage, there were the lights. And seeing how the house is run, I was so taken aback because it's like, wow, we really have our own voice in government. Like, it's like you hear it all the time, you know what I'm saying? Like you hear people tell you that. But seeing it and being in the room is so different from just hearing it. And then when I walked into the ADA House of Delegates last year, I had an even bigger a-ha moment because it's like there's, there's just, there's so many things to it and all these protocols and processes and that's a huge deal for an organization. It's really helped me realize that as a dentist like I have, I have my duty to my patients, but I have a duty to the profession as well. And I can fulfill that duty in the ADA, whether that's me just doing something locally or even hopefully in the future doing something national and all of it matters. Not one is more important than the other.
Wright [00:16:32] So, this conversation is so enriching to me. Like I love to hear that you are so passionate about organized dentistry and all the work that you've done because, so, I didn't get involved in ASDA during dental school, so I didn't have that experience. So, it's kind of like it's a really big fire hose for me. So, I've been kind of learning as I as I've gone. I was involved in SNDA and as you said, with ASDA in the House and all of those things, they were completely different from one another. So, what takeaways or what messages, any additional information that you would like to for us to send to future dentists about organized dentistry?
Nisnisan [00:17:07] I think future dentists just need to know that the ADA is family, first and foremost. And family doesn't leave when times get rough. Right. You don't. You identify the problem. You find a solution. Sometimes they just. You just need someone to listen to you, right? You call up your sister or I'll call ArNelle and I'll say, "Hey, like I had a really bad day today. Can I just talk to you about it?" That 30 minute conversation means so much more to a new dentist than being told. "Wow, you did it this way. You should have done A, B, C, or D like, I can't believe you did it that way. Or, Oh, you work for a corporate practice and that's why that happened." Or you know, like sometimes you just need to listen. Sometimes we need they need some help to walk them through the problem they're going through. But the ADA is a family and the ADA is here for you if you need to talk, if you need resources and more. I mean, there's so much growth in the ADA, but first and foremost, it's the place dentists call home. It's the people that fight for us when we're not aware of it. While we're in practice, while we're on vacation. ADA is family.
Hanlon [00:18:15] So, if I was going to sum it up in one word, I would say that organized dentistry is about connection.
Wright [00:18:21] There we go. Yeah, absolutely. I feel like the fact that we're all in it together, like we are protecting that profession by being involved, you know, like, so we all know that we got to protect the profession, push the profession forward. We've heard those conversations. But I feel like by us all being here, we're already contributing to that. Yes.
Nisnisan [00:18:39] Absolutely.
Announcer [00:18:41] On the next Dental Sound Bites…
Hanlon [00:18:43] Dental workforce is changing. We're talking to Dr. Marco Vujicic, chief economist and vice president of the Health Policy Institute at the American Dental Association. We're going to examine some of the trends and how they'll impact the profession. A look at the new opportunities and challenges and what every dental professional needs to know now to navigate a new day for dentistry.
Wright [00:19:06] Dr. Joy, it has been such a pleasure to have you on the Dental Sound Bites podcast. We are so grateful for all the work that you are doing that you have done within ASDA and now within the ADA. You know, the New Dentists Committee, we love you to pieces, so yep, you're our baby dentist, you know. But you won't be a baby dentist for very long, so do not get used to that phrase. And don't stick with it. Oh, no.
Nisnisan [00:19:28] Yes, ma'am. Yes, ma'am.
Wright [00:19:30] Yeah. So we just want to thank you so much for being on this episode. We hope to have you back on the show sometime soon.
Nisnisan [00:19:37] Yes, absolutely. Thank you so much for having me. Hearing my story, representation matters being, you know, minority ethnic women, being a woman in dentistry is a big deal. You know, timeline wise, it's women in dentistry is a relatively growing and new thing.
Wright [00:19:55] In HPI data.
Nisnisan [00:19:57] The statistics are very interesting. So, I loved this the session being here being surrounded by wonderful dentists and this opportunity. Thank you so much.
Hanlon [00:20:08] So if you liked what you heard today, be sure to subscribe to the podcast and make sure you get the latest episodes.
Wright [00:20:13] And you can also rate and write a review for us so that we can continue pushing out this amazing content for our doctors.
Announcer [00:20:23] Thank you for joining us. Dental Sound Bites is an American Dental Association podcast. You can also find this show resources and more on the ADA member app and online at ADA.org/podcast.