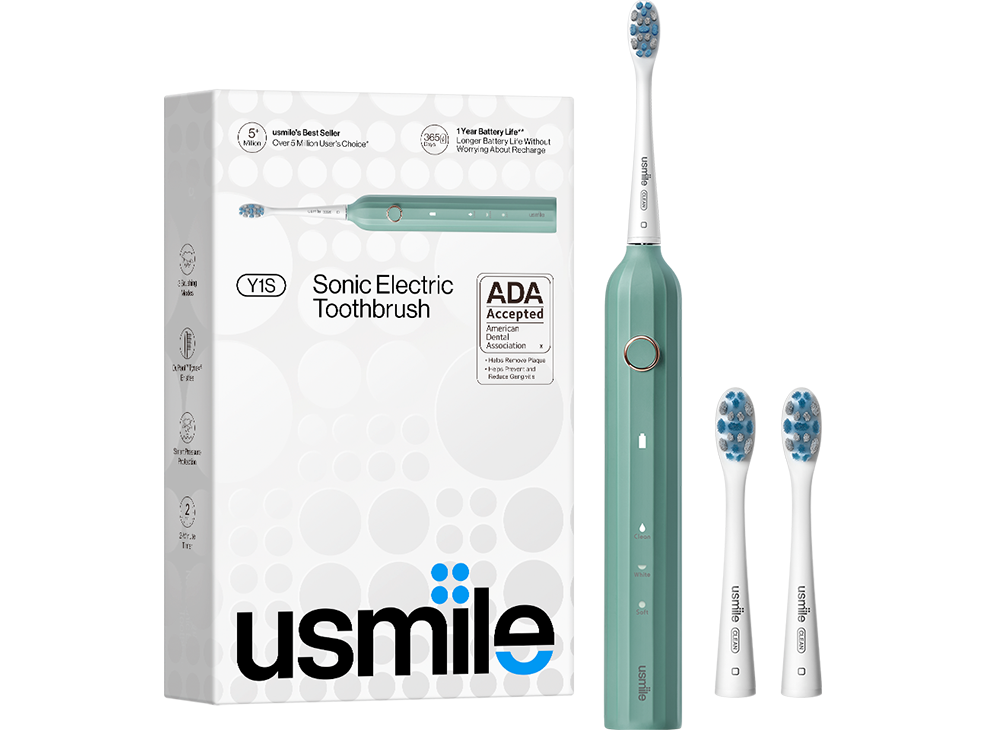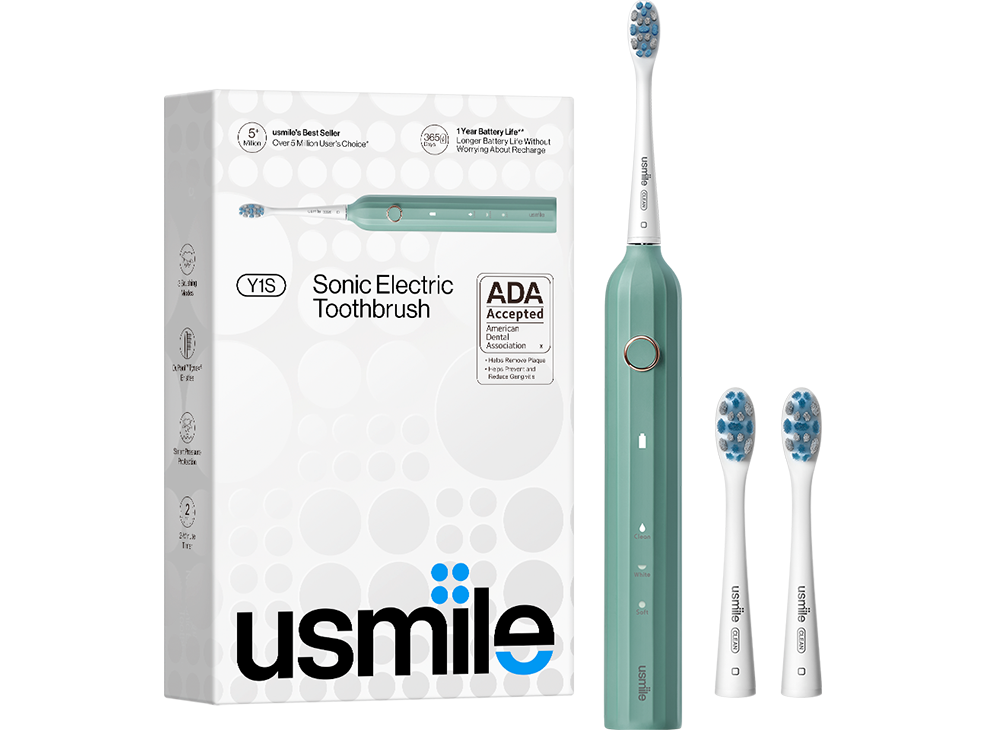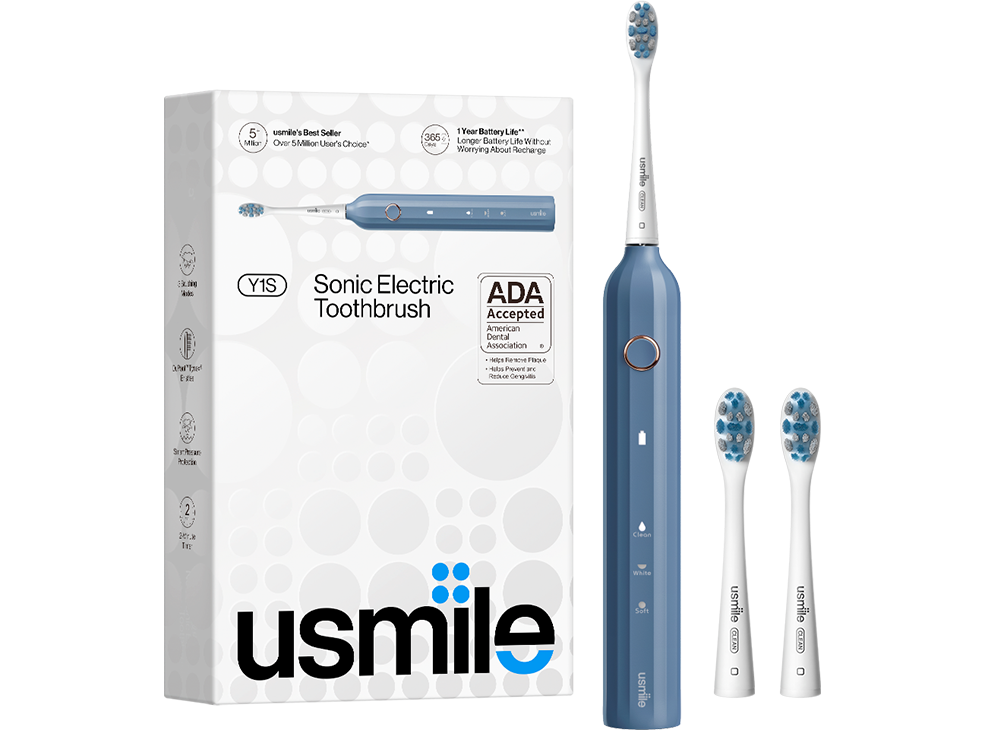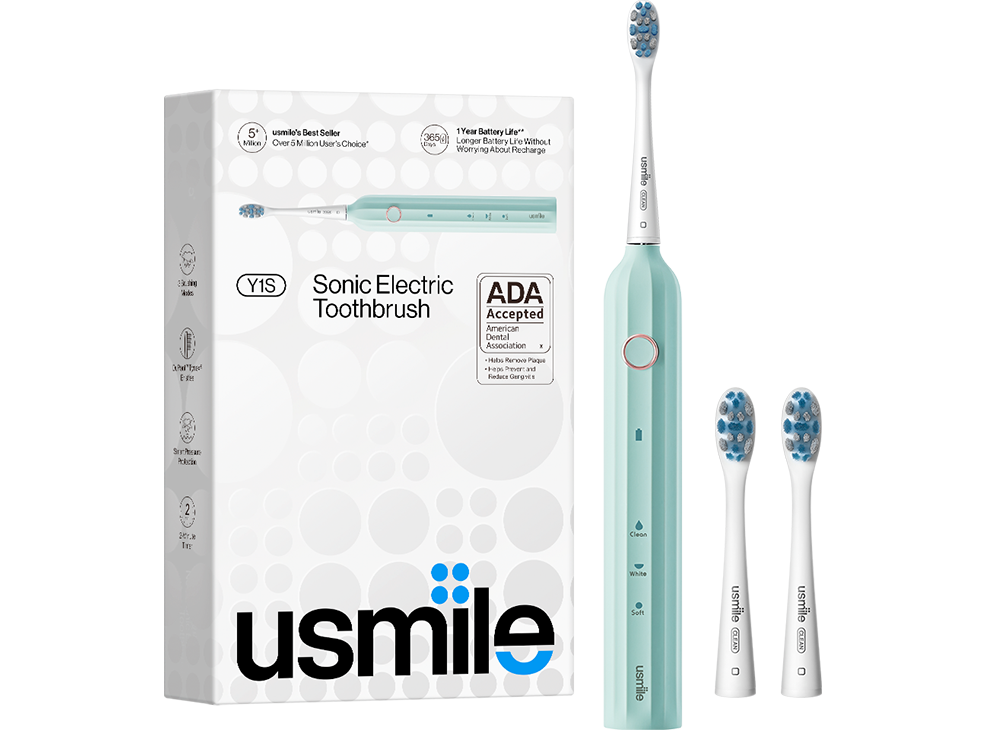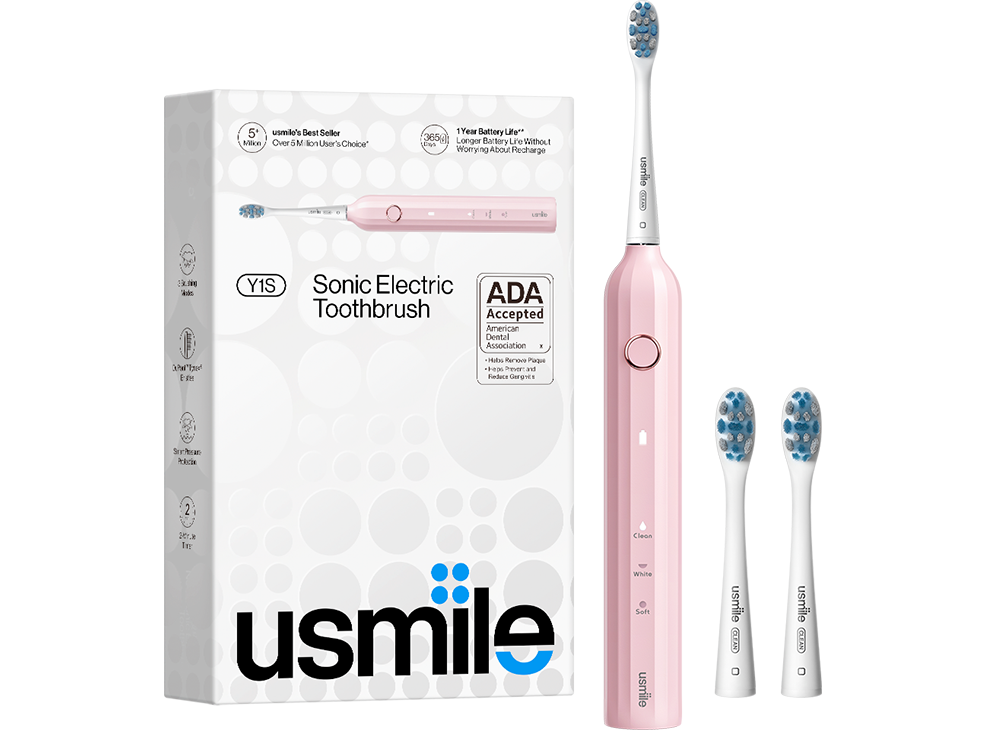 usmile Sonic Electric Toothbrush Y1S
Seal Statement
"The ADA Council on Scientific Affairs' Acceptance of usmile Sonic Electric Toothbrush Y1S is based on its finding that the product is safe and has shown efficacy in removing plaque and helping to prevent and reduce gingivitis, when used as directed"
• Helps remove plaque
• Helps prevent and reduce gingivitis
usmile's Sonic Electric Toothbrush Y1S designed to aid in the removal of plaque and help prevent and reduce gingivitis.
Features:
Available in 4 different colors, Mint, Green, Pink and Blue.

2-Minute Timer

High-frequency sonic vibrations, long lasting rechargeable battery, which can last up to 360 days per recharge

3 different cleaning modes to satisfy the diversified needs of users

Compatible with refillable Advanced Whitening Brush Head
To avoid hazards, such as faults, electric shocks, bodily injury, fire, and equipment or property damage, please observe the following safety precautions:
This appliance can be used by children aged 8 years and above and persons with reduced physical, sensory, or mental capabilities or lack of experience and knowledge if they have been given supervision or instruction concerning the use of the appliance in a safe way and understand the hazards involved. Children shall not play with the appliance. Cleaning and user maintenance shall not be made by children without supervision.

This product must only be supplied at a safety voltage corresponding to the marking on this product.

Do not expose the appliance or battery to excessive temperatures; Be aware of the risk of terminals of the battery-operated appliance or battery being short-circuited by a metal object.

This appliance contains batteries that are only replaceable by a skilled person.

Do not disassemble this product unless for disposal; Disconnect the power supply before removing the battery; Exhaust battery power before disassembling; Use proper tools when disassembling the plastic case to avoid damaging the battery or causing a short-circuit; After removal, cut the battery wire(s) and put the battery into the proper environmental receptacle for safe processing.

This product contains a built-in rechargeable battery. Do not place it into fire, sunlight, expose it to high temperatures, or charge it within a humid area. It could lead to battery leakage, overheating, and/or an explosion; Once charging is complete, detach the charging cable and cut off power.

Do not modify, repair, or disassemble this product by yourself. Do not use this product while bathing, showering, or in a sauna. While charging, ensure that the charging cable and device charging interface stays dry and clean. Do not attempt to remove stains or impurities it could compromise the safety of the charging process.

Consult your dentist before using this product if you have severe periodontitis, are undergoing dental treatment, or are experiencing oral discomfort; People using orthodontics, and have had dental work or tooth implants should consult their dentist.

When beginning to use this product, slight bleeding of the gums could occur while they become acclimated to the cleaning process. It should resolve within one to two weeks. Bleeding that persists for more than two weeks can indicate gum abnormalities. In that case, discontinue the use of the product and consult with your dentist.

Check for signs of damage before using this product. If it is broken, cracked, rusted, etc. please stop using it at once. If the power plug or cord is damaged, please replace it before using.

This product is designed for cleaning your teeth, Do not use it for any other purpose. If you feel discomfort or pain during use, please discontinue use and consult your dentist immediately.

This product complies with electromagnetic device safety standards. For any questions related to pacemakers or other implanted devices, consult your physician or the device's manufacturer before using.

Keep this product out of the reach of children and infants. This product has small parts such as the Brush Head Cover that should not be swallowed. When using the product new or when replacing the brush head, discard the brush head cover.

Use a power supply with an output of no more than 15W under normal or abnormal working conditions.
Additional information about the product, including whether coupons or promotions are available, is available on the company's web site.
Guangzhou Stars Pulse Co., Ltd.
F20, 21, 239 Tianhe North Road, Tianhe District
Guangzhou Guangdong, China 510630
https://global.usmile.com/